How to Make Crossword Puzzles
So, you'd like to know how to make your very own, custom, Crossword Puzzles? It's as easy as 1, 2, 3:
Add Words and Clues
Customize your Crossword Puzzles
Download and Print your Crossword Puzzles!
You supply the words and clues, and we will put the Crossword Puzzles together for you. Then, customize your word game to make it uniquely yours!
You can download your word game as a PDF and print it out, or email it to your friends or put it on your website.
Did you know... There are Two Main Yypes of Crossword Puzzles:
Free-form Educational Crosswords
These puzzles are the best for reinforcing vocabulary and peparing for tests.
Why are Free-Form Crosswords great for learning?
Because:
Every word you use gets included in the puzzle.
There are no extra 'filler words.'
Crosswords are easy to grade and self-checking.
They are FUN!
Super Crossword Creator makes it easy to make custom, professional crossword puzzles!
Newspaper Crosswords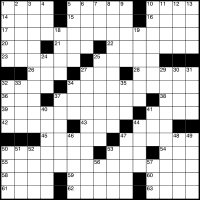 Newspaper Crossword puzzles are tightly packed and are famous for being in many newspapers. However, Newspaper Crosswords are awful for teaching purpuses.
Why are Newspaper Crosswords so bad for educating?
Because:
They can't be easily made with special themes and word lists.
Most of the words are 'filler words.' These are added words that are needed to make the puzzle tightly packed and can't be customized much.
They are very difficult for most students to complete.